This past year may have felt like it has flown by and you probably are having a hard time believing that your baby's first birthday is fast approaching. With their upcoming big day, you may be wondering what is the best way to celebrate this special occasion.
There are many things to think about when planning a kid's birthday party from the theme of the event, the food, games, decor, and how best to entertain your guests both big and small. We have put together a guide to help give you some ideas and hopefully make the process fun and easy!
First Things First – The Theme
You need to decide what kind of party you would like it to be. Will you be throwing a smaller party for a few important guests, or will you be throwing a party for friends and family?
When it comes to location, find a place that your baby will feel secure during their party, as you want to keep them happy and content. Also think of nap times when planning out the time of your event. If you know your baby always naps at a certain time, schedule the party to begin after they usually wake up or in between their naps.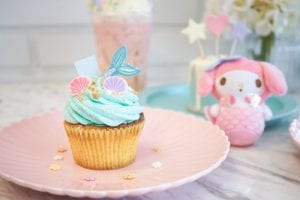 After you have decided on the location, time, and the amount of people that you would like to invite, you should start to work on a theme. Having a theme for your little's birthday will help make your plans flow together and stay on track.
While your baby and their smaller guests won't care too much about the theme that you chose, you will want to make sure that it is something you enjoy for your keepsake photos. This could be as simple as color coordinated decorations or a bit more detailed. Here are a few ideas for party themes:
Winnie the Pooh theme
Music inspired theme
Mickey Mouse theme
Little Lumberjack theme 
Unicorn theme
Car inspired theme
Mermaid theme
The Fun – Games and Activities
Since you will likely have quite a few guests under the age of three, it is best to stray away from loud bangs such as party poppers that may frighten your baby. Balloons on the floor should also be avoided as these are a choking hazard.
Instead why not make a playlist that your little guests will enjoy dancing to! Babies also enjoy simple games such as peek-a-boo, playing with boxes, toys within the house, or even just crawling around and finding attention between your guests.
Depending on the age group of the children attending, you can also set out a simple craft table for coloring or puzzles. It is not necessary to prepare a goody bag for a one year old's birthday as they may prose more of a cause for concern of choking hazards.
Don't over stress planning games and activities for your adult guests, focus more on having snacks or a meal and drinks for them to enjoy while socializing. Try and provide room for seating or for them to walk around and mingle.
Food for All
When it comes to your menu for the little ones, keep it simple. Plan on most of it ending up on the floor if you set up an area for them to come and grab as they please. Try to remember that some babies may not have teeth yet, depending on their age and may not be able to eat foods that require biting. They will probably not eat very much in quantity, so try and provide different colors and textures instead.
Serving finger foods are an easy option to appease both babies and adults. They are quick and easy to eat and won't take away from socializing or play time.
Easy food options are:
Small sandwiches
Cubes of mild cheese
Sliced up fruit and vegetables
Pasta spirals
Small yogurts
Graham crackers broken into smaller pieces
For beverages, it's a good idea to have plenty of water, milk, and perhaps some fruit juice for the kids. Adults may prefer something more like sodas, tea, and water.
Their First Birthday Cake
Many choose to have two different cakes for their baby's first birthday party. One for your baby and a cake or cupcakes for your guests. Some parents enjoy giving their baby the opportunity to smash their birthday cake to their heart's content.
If you don't have the time or the want to bake them yourself, most grocery stores offer a large variety or even a bakery.
Keep in mind, if you are lighting a candle on your little one's cake to keep an eye on them at all times as they may try to touch the open flame out of curiosity.
Some Helpful Tips
Here are a few helpful hints to help make your little one's party be memorable and exciting:
Have someone take a lot of photos. You will want to enjoy your baby's special day. So instead of you being the one stuck behind the camera, why not ask others to help capture photos of the memories with you and your spouse alongside your baby.
When preparing for your guests arrival hide all breakables and precious items. It is a good habit to think of child proofing your house for your extra guests.
Set up a clean, well equipped area for diaper changing.
If there are any breastfeeding moms in attendance they might appreciate having a designated quiet and private place to nurse.
Keep all pets out of the way during the party for both your pets and your smaller guests protection.
Prepare a variety of toys within an open space for the babies to play. It is likely that they will not play  with one another, but rather alongside each other.
Make sure to have safety gates and childproofing devices up as babies can move quickly. This is especially the case if some of your guests are already walking or crawling.
Keep an eye out for choking hazards that may fall on the floor, such as chunks of food, silverware, or trash.
Relax and try to enjoy the fun! Don't stress out about how everyone else is enjoying the party and just enjoy the memories.

Baby's First Year

Postpartum Basics