Soy is considered to be one of the healthiest foods. But there's a debate about whether soy products are safe, especially during pregnancy.
The controversy over whether pregnant women should consume soy products surrounds the differences between the nutritional value of whole soy and processed soy. Experts disagree about whether soy may be a contributing factor to endocrine problems during pregnancy. Soy may also affect how the body absorbs minerals and enzymes. Many people claim that soy has improved their health during bouts with cancer or a diagnosis of heart disease. Others have reported that soy is beneficial when trying to lose weight and during menopause.
What Are Soy Products Created From?
Soy is a legume from soybean plants. Soybeans contain fiber, protein and are low in saturated fats. Soy is an ingredient in a lot of meat-free products, including veggie burgers and nuggets, bacon, and tofu. Fermented soy foods and processed foods, including soy milk and protein powders containing soy and tofu, have been the subject of studies that indicate soy may not be as healthy as people once thought.
Potential Risk Factors
Phytic acid is a substance in soybeans that has the ability to block cadmium, lead, mercury and uranium in the body, but at the same time it can prevent the absorption of necessary minerals, including calcium, iron, magnesium, zinc and niacin, which developing fetuses need. Soy lowers cholesterol, which is beneficial when you aren't pregnant. However, pregnant women need cholesterol for their bodies to produce vitamin D, progesterone and estrogen. The phytoestrogens in soy products are associated with female sexual development, pregnancy and the menstrual cycle. Medical experts have different opinions about whether these compounds work in the same way as estrogen.
Benefits of Soy During Pregnancy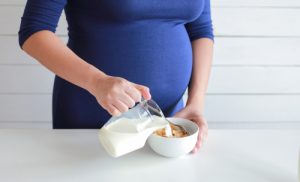 When you're a vegetarian, consuming enough protein during pregnancy can be challenging. The research into whether soy is safe during pregnancy is conflicting. Some scientists believe that since soy contains isoflavones, consuming large amounts can affect the baby's development during pregnancy. However, soy is an excellent source of low-fat protein, which is essential to the diet of a pregnant woman. Soy also contains calcium, iron, folate, trace minerals and zinc. Soy is beneficial for pregnant women and is safe to consume in moderate amounts. According to a study on soy, people in Asian countries have lower risks of cancer, stroke and heart disease. One reason may be their regular consumption of soy products.
Other benefits of consuming soy during pregnancy include:
Blood sugar control
Excellent protein source
Improved mood
Possible lower risk of anemia
Soy can help control cholesterol and blood sugar levels in gestational diabetes. However, pregnant women should always discuss dietary changes with their OBGYN. One issue that many pregnant women struggle with is depression. A Japanese study of pregnant women showed that their moods improved by consuming miso paste, which contains soy. The claim that soy can lower the risk of anemia is something you should discuss with your doctor, since the data is conflicting.
Recommendations for Soy Consumption During Pregnancy
No official guidelines for soy consumption during pregnancy are established. However,
according to the U.S. Soybean Export Council and the American College of Obstetricians and Gynecologists, pregnant women may consume moderate amounts of soy without any potential safety concerns. Recommended moderate amounts of soy products include:
One-half cup of soybeans
One-half cup of soy meat substitute
One-half cup of tempeh
One-half cup of tofu
One cup of soy milk
If you choose to eat soy products during your pregnancy, have a discussion with your OBGYN and obtain a guideline. Your doctor is the best judge of your nutritional requirements and may have specific recommendations.

Diet

Prenatal Health