Cholesterol levels in your body can vary during pregnancy. This is mainly due to the changes in hormone balance and metabolism that happen when you are pregnant. In this article, we will take a closer look at cholesterol levels during pregnancy and how they might affect you or your baby's health.
What Is Cholesterol?
Cholesterol is a type of lipid or fat molecule that is found in the blood. It has several important functions in the body, such as helping to form cell membranes and producing hormones. Cholesterol also helps the body to absorb vitamins and minerals from food.
There are two types of cholesterol: HDL (high-density lipoprotein) and LDL (low-density lipoprotein). HDL is often referred to as "good" cholesterol because it helps to remove LDL from the blood and transport it to the liver, where it can be broken down and removed from the body. LDL is often referred to as "bad" cholesterol because too much of it can lead to fatty deposits building up inside arteries, causing atherosclerosis and potentially leading to heart and blood vessel disease.
How High Cholesterol Can Affect Your Pregnancy
If your cholesterol levels are high during pregnancy, it could lead to complications such as the following:
Developing preeclampsia, a condition in which you have very high blood pressure and excess protein in your urine. This can affect both you and your baby's health, so be sure to seek medical treatment right away if you develop this symptom.
Having an increased risk of developing gestational diabetes or having more difficulty controlling existing type II diabetes while pregnant. If left untreated, uncontrolled diabetes during pregnancy is associated with greater risks for stillbirth, preterm delivery, birth defects, macrosomia (a large baby), jaundice, hypoglycemia (low blood sugar) after birth, respiratory distress syndrome and even death of the baby.
Having a higher risk for delivering your baby prematurely.
Giving birth to a baby with congenital heart defects or other birth defects.
The child is born with low levels of HDL cholesterol and high levels of LDL cholesterol, which could put them at greater risk for developing heart disease and other health problems later in life.
What Are the Levels of Cholesterol During Pregnancy?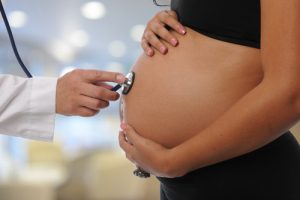 During prenatal care, you will have a physical exam that includes checking your pulse rate, weight, height or BMI (body mass index), blood pressure, temperature and listening for heartbeat sounds with a stethoscope. Your doctor may also check other things such as how much amniotic fluid is around your baby in utero using an ultrasound test. If everything looks good at this appointment, then they should be able to estimate if you're gaining too much or too little weight while pregnant based on what they see from their physical examination and prior medical history information.
Normal cholesterol levels for pregnancy are as follows:
Total Cholesterol: Less than 200 mg/dL
HDL Cholesterol: Above 40 mg/dL
LDL Cholesterol: Below 100 mg/dL
Triglycerides: Less than 150 mg/dL
If you have any concerns about your cholesterol levels or if they are rising, be sure to talk to your doctor about them.
How to Manage Cholesterol Levels
There are a few things you can do to help manage your cholesterol levels during pregnancy. These include:
Your doctor may also prescribe medication if necessary to keep your cholesterol levels within the recommended range for pregnant women. It is important to take all medications as directed by your doctor in order to minimize any potential risks to you or your baby.
What If My Cholesterol Levels Are High?
If it is found that your levels are high, then this may require treatment.
During pregnancy, you should not take medications to lower cholesterol unless it is absolutely necessary because many of the medicines used for lowering cholesterol could be harmful to a growing fetus. If possible, try making lifestyle changes such as eating healthier and exercising more before being put on medication. Your doctor can help you determine what would work best in terms of managing your LDL levels during pregnancy based on your specific medical needs and situation, so don't hesitate to ask questions!

Pregnancy Basics

Symptoms and Changes