For those who are not familiar with preeclampsia, also known as toxemia, it is a pregnancy complication that can trigger high blood pressure. The condition, which usually starts 20 weeks after a woman becomes pregnant, can also damage vital organs, such as the liver and kidneys. Beyond that, preeclampsia can jeopardize the health of a woman's baby. To further illustrate this point, a recent study revealed that preeclampsia adversely affects two to eight percent of pregnancies around the world and is responsible for over 15 percent of all premature births. It is also not uncommon for some women to develop preeclampsia after they have given birth. In these cases, the condition is often referred to as postpartum preeclampsia.
What Causes Toxemia?
The exact epidemiology of toxemia is not clear; however, the risk of developing the condition is higher for some women than others. According to a study published by the National Institutes of Health, women who are pregnant and meet any of the following criteria are at risk of developing toxemia:
Women with a personal or family history of toxemia
Women who are pregnant with twins or triplets
Women going through their first pregnancy
Women who are overweight or obese
It is worth noting that women who have a history of certain chronic illnesses, such as diabetes, hypertension or kidney disease are also at risk of developing toxemia. The same also applies to those who have undergone an organ transplant.
What Are the Symptoms of Toxemia?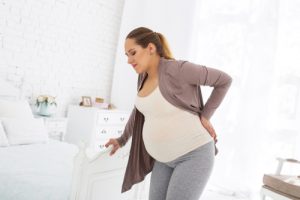 As with most health problems, the human body has an uncanny way of letting you know when something is wrong. As far as toxemia is concerned, most women who develop this condition during or after pregnancy will experience the following symptoms:
Vision problems
Nausea and vomiting
Dizziness
Stomach or shoulder pain
Difficulty breathing
Swelling of the face, hands, or legs
It is worth pointing out that, in some cases, women with toxemia may not experience any symptoms at all. That said, women who are pregnant should schedule regular appointments with a gynecologist or obstetrician to safeguard their health and the health of their baby throughout their pregnancy.
Can Genetics Increase a Woman's Chances of Developing Toxemia?
Not surprisingly, genetics can play a role in the development of a variety of diseases. Preeclampsia is no different in that regard. According to a study published by Science Daily, an online aggregator of press releases covering topics related to science, a genetic signature consisting of maternal and fetal gene variants can significantly increase a woman's chances of developing preeclampsia. The study, which was conducted by researchers at Baylor College of Medicine based in Texas, further revealed that preeclampsia could lead to eclampsia if left untreated. Eclampsia is a disorder that can trigger severe and life-threatening seizures and is responsible for 10 to 15 percent of all maternal deaths.
How Can Women Lower Their Chances of Developing Toxemia?
One way for a woman to lower her chances of developing toxemia and even eclampsia during her pregnancy is by consuming a healthy, well-balanced diet. According to a study, consuming lycopene-rich foods can go a long way toward helping protect a woman and her baby against both of these life-altering conditions. Some foods that are rich in lycopene include the following:
Processed and fresh tomatoes
Pink grapefruit
Guava
Along with contributing to the red color associated with these fruits, lycopene can substantially lower a woman's chances of developing either toxemia or eclampsia as it is chock-full of antioxidants. These infection-fighting nutrients contribute to better cardiovascular health and improved blood flow, both of which can prevent or reverse high blood pressure commonly associated with toxemia. Once high blood pressure is taken out of the equation, women are less likely to encounter dizziness, seizures and other serious health problems during their pregnancy.
Bottom Line
In summary, preeclampsia is a serious condition that can have a profound impact on a woman's health and the health of her baby. Fortunately, researchers are working hard to learn more about the condition and are hopeful that treatments will soon be made available. In the interim, women are encouraged to schedule regular appointments with their obstetrician or gynecologist and to consume more lycopene-rich foods during their pregnancy.


Concerns and Complications

Pregnancy Basics