According to the CDC, women with Type 1 and Type 2 diabetes can have a low-risk pregnancy by following some steps. We explore the steps to ensure a healthy pregnancy and how they favor the likelihood of successful delivery.
Women ailing from diabetes should be aware of the dangers associated with the condition and getting pregnant. However, you can prevent these risks by taking preventive measures such as checking blood sugar levels and adopting a healthy lifestyle before pregnancy. The following are ways to ensure you have a healthy pregnancy.
Plan a Health Check
If you want to get pregnant, first visit your doctor, who will assess your health issues. Disclosing existing health conditions such as high blood pressure and eye problems ensures that you receive treatment before getting pregnant.
Your clinician might advise you to schedule an appointment with a perinatologist, a clinician that treats mothers with persistent health issues. Before embarking on pregnancy, you can expect your doctor to advocate for weight loss. Before conceiving, women can lower their sugar levels by losing weight.
Generally, the state of your diabetes and overall health play a significant role in determining whether the doctor will give you the go-ahead to conceive. You should exercise honesty and transparency in these discussions to correctly assess whether you should get pregnant.
Exercise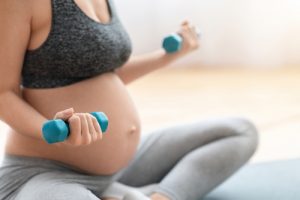 Exercise is effective in lowering your blood sugar levels. Physically fit individuals also have stable blood pressure and reasonable cholesterol levels. You also tend to be less worried and have a strong heart and bones.
When preparing to get pregnant, dedicate around 30 minutes during weekdays for exercise. However, not all activities are suitable during pregnancy, and it would be best to consult with your doctor on the best practices.
Control Your Blood Glucose Levels
As indicated by Forbes, pregnancy causes your blood sugar targets to change from regular targets. Before setting targets, you should seek advice from your medical practitioner. Your doctor will advise that you attain a specific hemoglobin A1C quantity before pregnancy. However, people with Type 1 diabetes will have a higher target to prevent hypoglycemia, a condition where you have low blood sugar.
You can monitor your blood sugar levels and remember to note the records. These records help assess the effectiveness of the diabetes care plan. Additionally, you can opt to record information about your insulin and ketones.
Soon after conception, your infant's vital internal organs start to develop. You risk miscarriage if your blood sugar is unstable during the initial days of your pregnancy. Moreover, the baby might be born with disabilities of the heart, brain and spine.
Healthy Nutrition
Healthy eating is necessary for everyone, not just pregnant women. Maintaining healthy eating habits and keeping fit has been effective in controlling blood glucose levels. It would be best if you did not hesitate to consult a dietitian if you find it challenging to maintain your blood sugar level. Dietitians will help you lose or maintain weight by prescribing the food to eat, its quantity and eating periods. Additionally, they will help craft a meal plan convenient for you. A meal plan might be effective in ensuring you and your baby do not lack nutrients.
As pregnancy advances, you will have to adjust your meal plan in the form of consuming more calories, proteins and nutrients. Thus, you must contact your dietitian frequently.
Change Your Diabetes Medication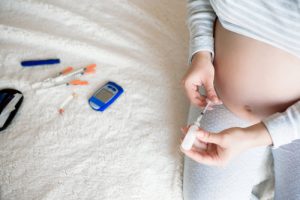 Not all medicines are suitable for pregnancy. Therefore, you should halt or modify unsafe medications before becoming pregnant after consultation with a physician. Diabetic women are advised to take insulin during their pregnancy.
If already on an insulin medication, you might need to adjust the kind, quantity and administration time of the medicine. Within your first three months of being pregnant, you might require low amounts of insulin. However, you will need higher insulin doses during the later stages of your pregnancy.
Diabetes medication, apart from insulin, is unsafe for pregnancy. Disclose to your doctor any underlying conditions such as high blood pressure because drugs to treat it are not safe for pregnancy.
Avoid Smoking
Smoking is detrimental to the health of diabetes patients. Diabetes-related health complications like eye disease and heart disease arise from smoking. Besides, women who smoke are more likely to have a stillborn baby or prematurely born baby.
Refrain From Alcohol
When preparing to get pregnant, you should refrain from consuming alcohol. Effects of alcohol extend to your baby and can cause chronic health conditions for your baby.
Conclusion
You can positively affect your and your baby's health during and after pregnancy. Normalize checking your health, regulating your blood glucose level, adopting healthy nutrition, exercising and refraining from taking drugs. Consulting with your doctor boosts your likelihood of a safe pregnancy.


Concerns and Complications

Pregnancy Basics