Pregnancy already incites a great deal of concern for expecting mothers, but women living with MS have even more concern for their health and the health of their babies.
Brief Overview of MS
Like other autoimmune disorders, MS, short for multiple sclerosis, occurs when antibodies mistakenly attack healthy cells and tissue in the body. Multiple sclerosis attacks the central nervous system, made up of the spinal cord and the brain.
This immune malfunction consists of inflammation and deterioration of myelin, a substance that insulates the nerves. As a result, sufferers of MS may experience mild to severe symptoms that may include weakness, decreased movement and inability to speak.
Fortunately, a smooth pregnancy with MS is highly likely with planning and a healthy lifestyle.
Symptoms You May Encounter
Contrary to popular belief, the symptoms you may encounter while pregnant and with MS are usually no worse than among women who don't have the disease. According to authors Rhonda Voskuhl and Callene Momtazee, multiple sclerosis symptoms improve when you become pregnant. This is said to occur because being pregnant elicits immune suppression to prevent attacking the foreign paternal proteins of the fetus.
As a result, the immune system's attacks on the body are suppressed. This positive symptom is found to lower the relapse susceptibility in the third trimester by 70 percent.
On the other hand, WebMD states that 40 percent of women experience postpartum relapse, as the immunosuppressants are no longer in effect after giving birth.
Furthermore, you may experience more fatigue than normal and increased balance issues. Although expectant mothers with MS are likely to experience a normal birth, weakened muscles can sometimes prolong labor, so cesareans are sometimes necessary.
Treatment Options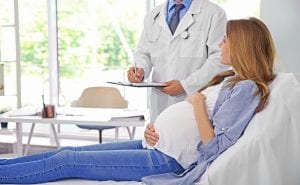 While symptoms of MS often improve while you're pregnant, there are possible ways to treat MS during pregnancy to avoid flare-ups. According to March of Dimes, common pharmacological treatments for MS include immunosuppressants and interferon. These medications are not recommended during pregnancy as they may damage the health of your unborn baby.
Therefore, the best measures you can take are getting regular exercise and physical therapy to strengthen your muscles and increase mobility. Additionally, it's a great idea to build a strong support system to assist you with questions, concerns and everyday tasks while you're pregnant.
Additional Precautions to Take
If you have MS and have decided to have a child, it's important to consider alternative treatments to manage the disease. This is because once you conceive, you probably won't have any safe medications to turn to. Even after giving birth, you won't be able to safely continue your medications if you plan to breastfeed.
Naturopathic doctors can provide a wealth of information about natural treatments such as essential oils and beneficial foods. For instance, one National Institute of Health study found that increased serum vitamin D reduces the development of MS along with relapse and clinical activity when MS is already present.
Consider Possible Causes
Although no conclusive causes have been determined, one source suggests a number of possible factors, including the following:
infections
smoking
genetics
lack of sunlight
MS can range from mild to severe, and it can greatly impair your quality of life. Therefore, the concerns you may have when you want to conceive are understandable. However, studies have shown that the odds are in your favor.
Even so, it's important to plan and maintain a healthy lifestyle to minimize the effects of the disease and prevent harm to you and your child. We recommend that you continue to research treatments and studies and consider multiple perspectives since discoveries are being made continuously.


Concerns and Complications

Pregnancy Basics