Guest Author: Amanda Turner
Whether you can safely drink coffee while you're pregnant is an ongoing matter of debate. We are not here to address either side of it, but to provide some assistance if you are given the green light to drink it.
It can't be stressed enough that if your doctor tells you to avoid caffeine, do that. While doctors might disagree on how much is safe to drink, your doctor might have a specific reason why you need to avoid it altogether. Ask about it and get a second opinion if you think it's necessary, but don't ignore it because you read a few things on the internet. This isn't just about your health, but about the health of your baby.
Two Hundred Milligrams
If your doctor tells you that low-to-moderate levels of caffeine are okay, chances are pretty good they're talking about up to 200 milligrams of it per day. That's the level that both the March of Dimes and the American College of Obstetricians and Gynecologists agree is the maximum you can safely drink. In fact, if you were a heavy coffee drinker before you became pregnant, some doctors think quitting cold turkey could be dangerous, too. Rebound headaches could prompt you to take medications that are potentially harmful to developing fetuses.
Best Coffees to Choose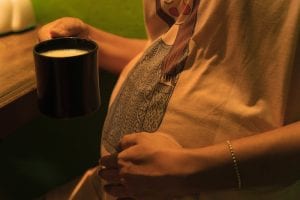 Most average cups of coffee contain about 95 milligrams of caffeine. Under the basic 200-milligram limit, that means you can safely drink two cups a day. Although dark roast coffees have lower levels of caffeine than light or medium roasts, the difference is so slight that for our purposes it doesn't matter. Be aware that the 95-milligram average means some coffees will have more caffeine. If you drink specialty coffee, research how much caffeine it has.
A shot of espresso, however, contains about 65 milligrams of caffeine. You can drink three shots of espresso without going past the 200-milligram limit, or a cup of regular coffee in the morning and a shot of espresso in the afternoon.
Reduced Caffeine
If you just plain enjoy the coffee-drinking experience, you don't need to reduce the number of cups you drink if you can reduce the amount of caffeine. That means looking at decaffeinated or half-caffeinated coffee options.
Half caff, as they call it, depending on the roast and brew type, has approximately 50 milligrams of caffeine per cup. That's four cups per day by itself. You can also mix it with cups of regular coffee or espresso drinks. Just make sure that you keep track of what you're drinking.
There is also no such thing as truly decaffeinated coffee. It still retains a very small amount of caffeine, usually less than 10 milligrams. If your doctor tells you to avoid caffeine at all costs, don't drink this thinking you're still following advice, find alternate options instead. If you're cleared to drink a moderate amount of caffeine, you can drink just about all of this you want, however.
Don't Forget Acidity
One thing to keep in mind while drinking coffee is that, especially in lighter roasts, coffee is an acidic drink. People with sensitive stomachs are more likely to have reflux issues when they consume coffee. Your doctor will probably tell you this. If that's overlooked, it's a good idea to drink coffees low in acid to reduce the chances of developing reflux. Dark roasts and coffees made from Arabica beans tend to have lower levels of acid.
If you love your morning cup of coffee, becoming pregnant doesn't necessarily mean having to quit until you give birth. In fact, quitting cold turkey might not be a good idea. The key is knowing how much is safe for you and your baby, and taking steps to monitor your intake. You'll also want to remember that 200 milligrams, which is the standard level endorsed by medical professionals, applies to all sources of caffeine. If you love morning coffee and afternoon tea, make sure you're applying that limit across the board. And, don't overlook the acid content of coffee. Consider low-acid coffees to help minimize things like reflux.
Above all else, however, is that if your doctor has a specific reason for you to limit or eliminate caffeine during pregnancy, listen to that trained, experienced medical professional. Don't read stuff on the internet and decide that you can just ignore that person.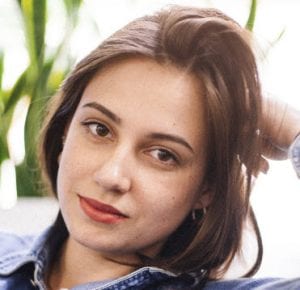 Amanda loves sipping on her coffee while watching sunrises on the beach. When she's not brewing a new mug, you can find her taking her time in a bookstore or walking her fluffy lab, Dexter. Join her passion for coffee at Coffee-Channel.com.

Diet

Prenatal Health