The consumption of garlic during pregnancy could prove vital to expecting women.
Garlic Overview
Thought to be native to the Siberia region of Russia some 5,000 years ago, garlic is a bulb-like herb in the onion family that is grown throughout the world. The plant product is widely used as a food-enhancing spice. The substance contains the chemical allicin, which many medical professionals opine possesses numerous health-boosting properties and which has been used to treat illnesses impacting the cardiovascular, digestive and hepatic systems.
Garlic During Pregnancy
Medical researchers have found that expecting women who consume discernible quantities of garlic during pregnancy might enjoy a variety of health benefits for both mother and developing child: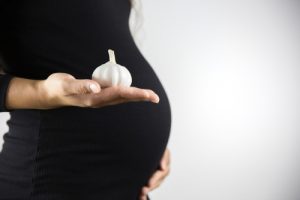 Diminished Cholesterol Levels
Routine ingestion of garlic is said to reduce blood concentrations of bad cholesterol and help maintain levels of the good kind.
Thinned Blood
Allicin is said to keep blood thin, which can help maintain steady blood flow. This is vital to pregnant women because of the physical demands faced by their bodies.
Boosted Immune System
Any type of illness could prove dangerous to an expecting mother and her unborn child. Garlic consumption is said to strengthen immunity.
Decreased Risk of Preeclampsia
Preeclampsia is a potentially serious form of high blood pressure that impacts a relatively small percentage of pregnant women. If left unchecked, this condition can pose life-threatening complications for the mother and unborn child. Garlic has proven effective in reducing a woman's risk of developing this condition.
Increased Baby Weight
The herb has been used remedially, and it has been a recommended dietary supplement for the mothers of fetuses in danger of being born with low birth weights. Research has shown that garlic extract added to placental cells increased the weight and development of fetuses.
Decreased Number of Skin Issues
The hormonal changes precipitated by pregnancy can lead to a multitude of skin problems. Regular garlic consumption can limit the occurrence and severity of such conditions.
Diminished Fatigue
Expecting women often experience more frequent incidents of fatigue. Garlic consumption is thought to reduce this untoward event's occurrence.
Reduced Severity of Morning Sickness
Women who eat garlic regularly are said to experience less severe morning sickness-related manifestations like nausea and vomiting.
Possible Side Effects of Garlic
As potentially beneficial as garlic might be to an expecting individual, the herb should still be eaten in moderation. Excessive intake of garlic could precipitate side effects like low blood pressure and unexplained bleeding.
Safe Garlic-Based Recipes for Pregnant Women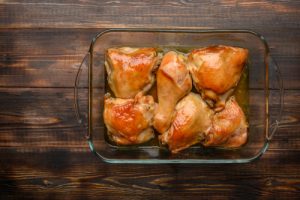 Honey Garlic Chicken
Ingredients
Four boneless chicken thighs
One cup of soy sauce
One cup of honey
One-quarter cup of minced ginger
One-quarter cup of minced garlic
Directions
Mix the soy sauce, ginger, and garlic. Pour the concoction over chicken thighs and let the meat marinate for about one hour. Place chicken in an oven pre-heated to 200 degrees Celsius and let it bake for 20 minutes. Flip chicken pieces over and glaze with the remaining amount of the mixture and bake for an additional 20 minutes.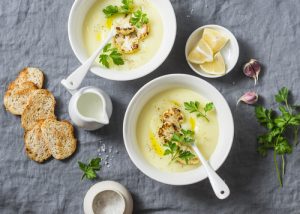 Cauliflower Soup
Ingredients
Five cups of low sodium chicken broth
Two or three sliced garlic cloves
Two tablespoons of oil
One full bowl of finely chopped cauliflower
Chopped fresh thyme leaves
Salt and pepper
Directions
Place oil in a pan, heat and add garlic. Stir until the garlic turns brown. Transfer cooked garlic into a bowl and set aside. Pour chicken broth into a large pot. Add cauliflower, thyme, salt, and pepper into the container and simmer for at least 15 minutes. Transfer cooled concoction into a blender and puree until it is smooth. Garnish with the cooked garlic.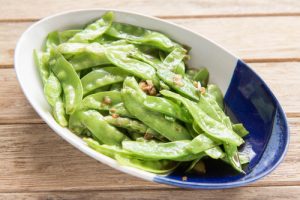 Garlic Stir-fried Snow Peas
Ingredients
Three minced garlic cloves
Two cups of trimmed snow peas
One teaspoon of sesame oil
One-half a tablespoon of cooking oil
A pinch of salt
Toasted sesame seeds
Directions
Using a medium-sized pot, boil water before adding cooking oil, salt and snow peas. Cook for one minute and drain the pot's water content. In a wok, stir fry garlic before adding in snow peas, salt and oil mixture. Stir fry garlic and added mixture together. Top with the toasted sesame seeds.

Diet

Prenatal Health