When you're pregnant, you have a lot of things to worry about—your health, the health of your baby and the delivery process. But did you know that you also need to be concerned about melanoma? Melanoma is a type of skin cancer that can occur during pregnancy. In this article, we will discuss the risks associated with melanoma during pregnancy and offer some tips on how to cope with this condition.
What is Melanoma?
Melanoma is a type of skin cancer that can develop during pregnancy, especially for women between 20 and 40. It typically appears as a dark or black mole on the skin. Melanoma can spread quickly and is the most severe type of skin cancer. It most often occurs in the back or shoulder area. It can also develop on the neck or other spots.
What are the Risks of Melanoma during Pregnancy?
There are several risks associated with melanoma during pregnancy.
Pregnant women have a higher risk of developing melanoma. This is because the hormone levels in their bodies increase melanin production, which is the pigment that gives skin its color. Melanin also makes the skin more sensitive to the sun's ultraviolet (UV) rays.
Pregnant women are more likely to develop cancer on their face, neck and chest when exposed to the sun.
Pregnant women have a higher risk of melanoma spreading to other parts of their bodies.
If a pregnant woman is diagnosed with melanoma, she is more likely to be in a more advanced stage than if she were not pregnant.
What are the Consequences of Melanoma during Pregnancy?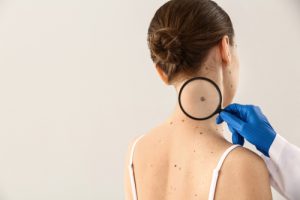 The consequences of melanoma during pregnancy can be serious for both the mother and the baby. It can spread to other parts of the body, including the liver, lungs and brain. This can lead to serious health problems for the mother. If the cancer is in a more advanced stage when it is diagnosed, the mother may need to have surgery to remove the cancer. This can cause complications such as bleeding and infection.
The consequences for the baby can be just as serious. Cancer can spread to the placenta, which is the organ that provides nourishment to the baby. This can cause the baby to be born prematurely or have a low birth weight. In some cases, cancer can also spread to the baby's liver, lungs and brain.
If melanoma spreads to the baby's germ cells, it can lead to genetic problems that can prove difficult to treat. It can also increase the risk for other types of cancer to develop later in life, such as breast cancer and cancer of the uterus. Also, if the melanoma is widespread, it can become a challenge for surgeons to remove all of the affected areas.
Ways to Cope with Melanoma during Pregnancy
There are several ways in which expectant mothers can fight melanoma during pregnancy. Some ways to cope with the condition include:
Conclusion
At an early stage of pregnancy, women who have been diagnosed with melanoma should be checked more frequently than usual and their skin examined every week. In addition to a physical examination, they should discuss with physicians the possibility of preventing further development of melanoma by taking measures such as sun protection and reducing exposure to ultraviolet rays.


Concerns and Complications

Pregnancy Basics