Pregnancy is a beautiful time in a woman's life, but it can also be a time of great stress. One of the most common issues women face during pregnancy is insomnia.
Insomnia is a significant sleep disorder affecting a huge number of women during their pregnancy. Lack of sleep can be caused by many factors, including anxiety about the baby's health, changes to your lifestyle, stress at work or home and an altered body clock due to different hormone levels. The lack of sleep starts from the first trimester and usually worsens as the pregnancy progresses. Here are some tips for dealing with insomnia during your pregnancy.
1. Relaxation Techniques
Try relaxation techniques such as massage or breathing exercises. These techniques will work best if you do them right before bedtime. If sleeplessness is caused by physical discomforts such as back pain and swollen feet, a heating pad may also provide temporary relief from body aches and pains. Make sure you consult your doctor too on how to manage these issues.
2. Exercise
Ensure you are getting enough exercise during the day. Physical activity increases serotonin, which helps to calm the body down and prepare it for sleep. Avoid exercising in the evening. Exercising too close to bedtime makes it difficult for your body and mind to relax and sleep. To reduce anxiety and depression, try meditation, yoga or simply going for a walk after dinner. Exercise is always a great way to relieve stress and improve your mood.
3. Dietary Practices and Supplements for Insomnia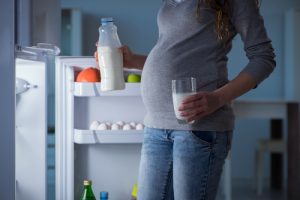 Before bedtime, a glass of warm milk is an excellent natural remedy for sleeplessness during pregnancy. It can be due to its tryptophan content, which has been suggested that it helps in inducing sleep since it serves as a precursor for serotonin. In addition, calcium can also help you fall asleep faster at night by reducing muscle tension. Sufficient magnesium and iron intake during pregnancy are also known to help reduce stress and anxiety, leading to an easier time falling asleep.
Control any preexisting medical conditions such as heartburn or asthma, which make falling asleep more challenging. If sleeplessness is due to heartburn and nasal congestion, you can try elevating your upper body with the help of a pillow. Heartburn typically occurs in the last trimester, so it's best to discuss this issue with your doctor first before trying any medications. Nasal congestion can be relieved using decongestant nose sprays or saline nasal spray. Use these treatments only when needed, though, because they may have side effects on your unborn baby. These remedies are not recommended for pregnant women who are allergic to these ingredients.
4. Bedtime Routine
Try to have your last meal at least two hours before bedtime. Eating too much or too close to bedtime can make sleeping difficult because it causes indigestion or gas and changes your body's metabolism. Avoid caffeinated drinks at least four hours before going to bed. Caffeine is also a stimulant that alters your nervous system and delays sleepiness at night.
Avoid watching TV before bedtime, as it stimulates your brain and makes it harder for you to fall asleep. Ensure that your smartphone is at least four feet away from your bed, as well as any other devices that emit lights such as alarm clocks and night lamps.
5. Other Interventions
Always trust your body's needs when sleeping. If you feel that you are having trouble sleeping no matter what you do, then take a break from all the tasks and responsibilities for the day. Try spending some time with your family or taking a nice warm bath before hitting the sack. If nothing else seems to work, maybe try talking to someone about how you feel so they can help you calm down.
Conclusion
It is normal to experience some degree of sleep disturbance and difficulty sleeping during pregnancy. As long as these issues do not affect your daily activities and relationships with others, then you don't have to worry about them. However, if you feel that your insomnia has become chronic and interferes with your daily life, consult your doctor right away for medical advice. You do not want to put yourself or your baby at risk by continuously having sleep deprivation.

Everyday You


Sleep