Premature rupture of membranes (PPROM) is a pregnancy complication. The condition involves rupture of the amniotic sac before labor onset. The sac contains the baby and fluid. It can happen after week 20 of pregnancy, with most cases discovered around week 24. At this point, there's a 30% chance that the baby will be born prematurely before 37 weeks.
What Are the Causes?
What causes PPROM is still not known. There are many theories, but none have been proven. However, there are some studies out there that offer some insights.
Some of the things that may cause PPROM include:
Symptoms of the Condition
Symptoms of PPROM occur differently in every pregnancy. They include:
Breaking of water before you're induced or go into labor
Leaking of fluid from your vagina
Breaking of water in the middle of a contraction
These symptoms usually last less than an hour. They might be similar to symptoms of various conditions. Contact your healthcare provider immediately if you notice these symptoms.
How Is PPROM Diagnosed?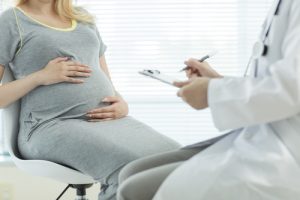 The diagnosis of PPROM needs a detailed physical examination, history and specific laboratory studies. To test for PPROM, your doctor will most likely ask questions about your pregnancy and symptoms, whether you are bleeding vaginally, contracting or lately having sexual intercourse.
Later the doctor will offer an exam, which is carried out with a stool to view inside your vagina. Additionally, the doctor will check for any fluid leaking from the cervix. Also, the healthcare provider will get some fluid for testing to check whether it's vaginal fluid, amniotic fluid or urine.
The test might include:
Observing the sample with a microscope. Once the amniotic fluid is dry, the doctor will notice a fern-like pattern.
Performing a speculum examination. It will help in evaluating whether there is any cervical effacement and dilation.
pH balance testing. The pH balance of vaginal fluid is quite different from that of urine and amniotic fluid.
In addition, you might be required to undergo an ultrasound exam to check the amount of amniotic fluid surrounding your body.
However, if PPROM is suspected, avoiding any digital cervical examination is critical since such a test might increase mortality and morbidity. Also, digital cervical examinations can result in an average nine-day reduction of the latent period. A decrease in latent period might lead to high infectious sequel and morbidity from preterm labor.
The rate of PPROM is 8% from 20 weeks on, which is why it is essential to see your doctor for regular checkups and have a plan in place if you go into labor before 37 weeks. If you're experiencing vaginal discharge or bleeding before 37 weeks, see your doctor right away.
Risks
There are lots of risk factors linked with PPROM. Patients who are smokers, those who had previously experienced preterm delivery, those with a history of sexually transmitted infections, low economic status, uterine distension or vaginal bleeding are likely to experience PPROM.
Some procedures, including amniocentesis and cerclage, might result in PPROM. However, there isn't any etiology of preterm PROM. Inflammation or choriodecidual infection might result in preterm PROM. Reduction in collagen level of the membranes increases the risk of preterm PROM in patients. There is a high likelihood that multiple factors expose some patients to PPROM.
Treating PPROM
Antibiotics: Administering antibiotics to patients with PPROM can lower neonatal infections and extend the latent period. Patients who receive antibiotics after PPROM are less likely to undergo conditions such as postpartum endometritis, neonatal pneumonia, chorioamnionitis, intraventricular hemorrhage or neonatal sepsis. Most antibiotic regimens are prescribed for use post-PPROM.
Corticosteroids: Corticosteroids effectively reduce the risk of neonatal or maternal infection—the lower mortality and morbidity after PPROM. In addition, it decreases the risk of intraventricular hemorrhage, respiratory stress syndrome and necrotizing enterocolitis. As a result, all healthcare providers who look after pregnant women should clearly understand the dosage and indications for administering corticosteroids during pregnancy.
Conclusion
There is no definite way to prevent premature rupture of membranes. However, PPROM has a strong connection with cigarette smoking. Pregnant women should avoid smoking cigarettes immediately.


Concerns and Complications

Pregnancy Basics