Bedtime is the perfect time to reflect on the day's nutrient intake and consider how to make improvements for the following day. Did you get enough protein at lunch? How about healthy fats at dinner? If not, now is the time to plan and ensure you're getting all the nutrients your body needs to function optimally.
A bedtime snack of Greek yogurt or a hard-boiled egg can help increase your protein intake, while a handful of nuts or a small spoonful of peanut butter can help up your fat intake. If you're looking for something sweet, a piece of fruit or a few dark chocolate chips can also do the trick. Whatever you choose, make sure you include a balance of nutrients so that you wake up feeling refreshed and ready to take on the day.
Nutrient Focus During Pregnancy Stages
Stage One: For the first stage of pregnancy, it is crucial to focus on eating foods high in folic acid. It can be found in leafy green vegetables, legumes and fortified cereals. Another vital nutrient during this stage is iron, which can be found in red meat, poultry and seafood.
Stage Two: During the second stage of pregnancy, it is essential to continue eating foods high in nutrients. This includes lean proteins, whole grains, fruits and vegetables. It is also essential to drink plenty of fluids, including water and milk.
Stage Three: The third stage of pregnancy is when the baby grows the most. During this stage, it is essential to eat various nutritious foods, including proteins, whole grains, fruits and vegetables. It is also essential to drink plenty of fluids.
Dinnertime Recipes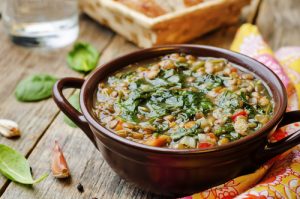 Ingredients:
Spinach
Lentils
Onion
Garlic
Chicken broth or water
Salt and pepper to taste
Instructions:
Sauté the garlic and onion in a soup pot.
Add the spinach and lentils and chicken broth or water.
Bring to a boil and simmer for 20 minutes.
Season with salt and pepper to taste.
Ingredients:
Lean beef, cut into thin strips
Broccoli
Snow peas
Red pepper
Onion
Garlic
Soy sauce
Rice vinegar
Sesame oil
Instructions:
Stir-fry the beef and vegetables in a wok or large skillet.
Add soy sauce, rice vinegar and sesame oil to taste.
Serve over rice.
Ingredients:
Black beans
Quinoa
Green chiles
Onion
Garlic
Cumin
Salt and pepper to taste
Instructions:
Preheat the oven to 350 degrees.
Mix the black beans, quinoa, green chiles, onion, garlic and cumin in a bowl.
Season with salt and pepper to taste.
Fill tortillas with the mixture and roll them up.
Place them in a baking dish and bake for 20 minutes.
Serve with salsa and sour cream.
Conclusion
Before bedtime, it is important to include nutrients that help the body relax and wind down for the night. During the day, our bodies are constantly moving and using energy, so it is essential to give the body a chance to rest and recover at night. The best way to do this is to include some healthy carbohydrates in your evening meal. Carbs help increase serotonin levels, a neurotransmitter that promotes feelings of calmness and relaxation. In addition, try to avoid eating high-fat foods before bed, as these can lead to indigestion and disturb sleep. Instead, focus on lean proteins and vegetables, which will help you feel satisfied without weighing you down. By including the proper nutrients in your evening meal, you can help your body wind down for a restful night's sleep.

Diet

Prenatal Health