Maintaining solid postural balance can be difficult during pregnancy and potentially result in serious consequences for both mother and unborn baby.
The Connection between Balance and Pregnancy
Achieving and maintaining a steady balance is a major undertaking that requires the proper function of numerous systems in the body.
However, in expecting women, balance can be a challenge for a variety of reasons that include:
Bodily Alterations – It is no secret that, as pregnancy progresses, the belly of the soon-to-be mother grows. Excess weight and expanded frame could place added pressure on particular and unexpected muscles and bones. This shift may result in injuries that trigger problems with balance.
Hormonal Fluctuations – The bodies of expecting women secrete increased levels of numerous hormones. One such chemical is called relaxin. This substance's primary purpose is to prepare the reproductive organs for pregnancy and the eventual birthing process. The chemical is also known to loosen internal structures like muscles and bones. If levels of relaxin are especially heightened, this can cause expecting women to become more susceptible to potentially dangerous falls.

In some cases, women may experience what is medically referred to as ligament laxity. This condition involves the loosening of joints, which are soft tissue structures that connect muscles and bones. This malady can induce significant physical discomfort, as well as cause potentially serious balance issues.

Transient Dizziness – Most expecting women experience short-lived periods of vertigo. Doctors and researchers believe that common causes include added stress and strain on the body as well as rapid hormonal fluctuations. Sometimes, the entire room or environment may feel like it's spinning a mile a minute. Even during mild occurrences, dizziness can prevent you from standing or walking steadily.
Potential Complications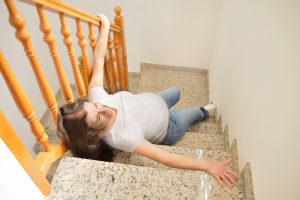 Arguably, the most dangerous consequence of imbalance in expecting women is the increased risk for falls. Even falls that only yield minor injuries at the start could have major repercussions. Any type of physical injury could greatly challenge mobility, which could result in her gaining more weight and experiencing numerous physical and internal health issues that may threaten the health of her unborn child.
In the most severe cases, serious falls, such as those that occur down a flight of stairs, could lead to miscarriage.
Balance-Maintenance Tips
Fortunately, expecting women may be able to overcome equilibrium issues and avoid potentially dangerous falls by adhering to specific practices such as:

Pregnancy Basics

Symptoms and Changes